Proud to serve as the Gateway to Bourbon Country as a starting point for the scenic tours of legendary countryside distilleries, Louisville is now buzzing with a unique bourbon experience all its own.
The city is alive with the sounds of hustle, bustle and exciting new developments springing up on the original Whiskey Row and elsewhere with nearly a dozen bourbon-related ventures and $1 billion in investment.
Louisville's first distillery since Prohibition, The Evan Williams Bourbon Experience, opened in the heart of downtown in the Fall of 2013 signaling a new era in the Gateway to Bourbon Country and becoming the first of 10 and counting spirits-related attractions soon to be part of Louisville's Urban Bourbon Experience.
Familiar brands like Evan Williams, Angel's Envy, Michter's, Jim Beam, Old Forester and Bulleit are open or in various stages of construction. Less familiar, but destined to have cult followings are new craft distilleries such as Peerless and Copper & Kings. The cocktail and culinary experience that has been the Urban Bourbon Trail since 2008 continues to grow alongside the popularity of bourbon with 34 stops, each well-stocked with at least 50 bourbons and some as many as 150. All are serving the city's official cocktail that was recently designated with this distinction on National Bourbon Day this past June – the Old-Fashioned.
Bourbon is more than a drink in Kentucky. It's part of the culture, tradition and heritage of the community. As America's only native spirit, it follows the timeline of American history and the founding of Louisville. In fact, the strategic location on the river played a vital role in the development of bourbon whiskey itself. Stories like this can be discovered at attractions such as the Filson Historical Society in their collection including old stills, Louisville Stoneware in their curated room of old whiskey jugs and in the upcoming Prohibition and Kentucky exhibit at the Frazier History Museum. Bourbon enthusiasts can even pay homage to legendary distillers like Pappy Van Winkle by visiting the beautiful and historic grounds of Cave Hill Cemetery.
Even beyond the stops on the Urban Bourbon Trail, you would be hard-pressed to find a local restaurant without a strong bourbon list or at least one bourbon-infused menu item. Satisfy your sweet tooth with bourbon balls, truffles or chocolates from local makers such as ArtEatables, Cellar Door, Muth's Candies, Dundee Candy Shop, and Ghyslain. Try the Mint Julep cupcakes at Sullivan Bakery, the Old-Fashioned cake at Sweet Surrender or bourbon-glazed donut at many of the city's German heritage bakeries. Local ice cream vendors weigh in with a variety of bourbon flavors at Comfy Cow, Graeter's, and Homemade Ice cream and Pie Kitchen. Locals love the sweet endings at Feast BBQ – a bourbon slushie, or a boozy peach milkshake with bourbon at Sidebar on Whiskey Row.
Distilleries
Angel's Envy - Across from Slugger Field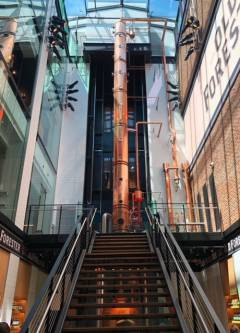 Bulleit Frontier Whiskey Experience
Copper & Kings American Brandy Co.
Evan Williams Bourbon Experience on Whiskey Row
Jim Beam Urban Stillhouse at 4th Street Live!
Kentucky Peerless Distillery on Whiskey Row
Michter's Distillery - In the Fort Nelson building on Whiskey Row
Old Forester Distillery on Whiskey Row
Prohibition Spirits - Highlands neighborhood
Rabbit Hole Spirits - Craft distillery in the NuLu neighborhood